FAQ
No, you do not. Russian legislation does not require foreigners to confirm their knowledge of the Russian language to be permitted to work in Russia thus far (July 2014).
When you are in Moscow you will find that a considerable number of people here speak some level of English. This means that you will not be helpless if you don't know a single Russian word. But of cause even some minor skills in the Russian language will be useful when leaving in Russia especially if you are going to travel across the country. It's true that Russian language is difficult to learn, but you don't have to be a university graduate in Russian studies to enjoy your life here.
BKC-IH offers Russian classes for its teachers with 50% discount.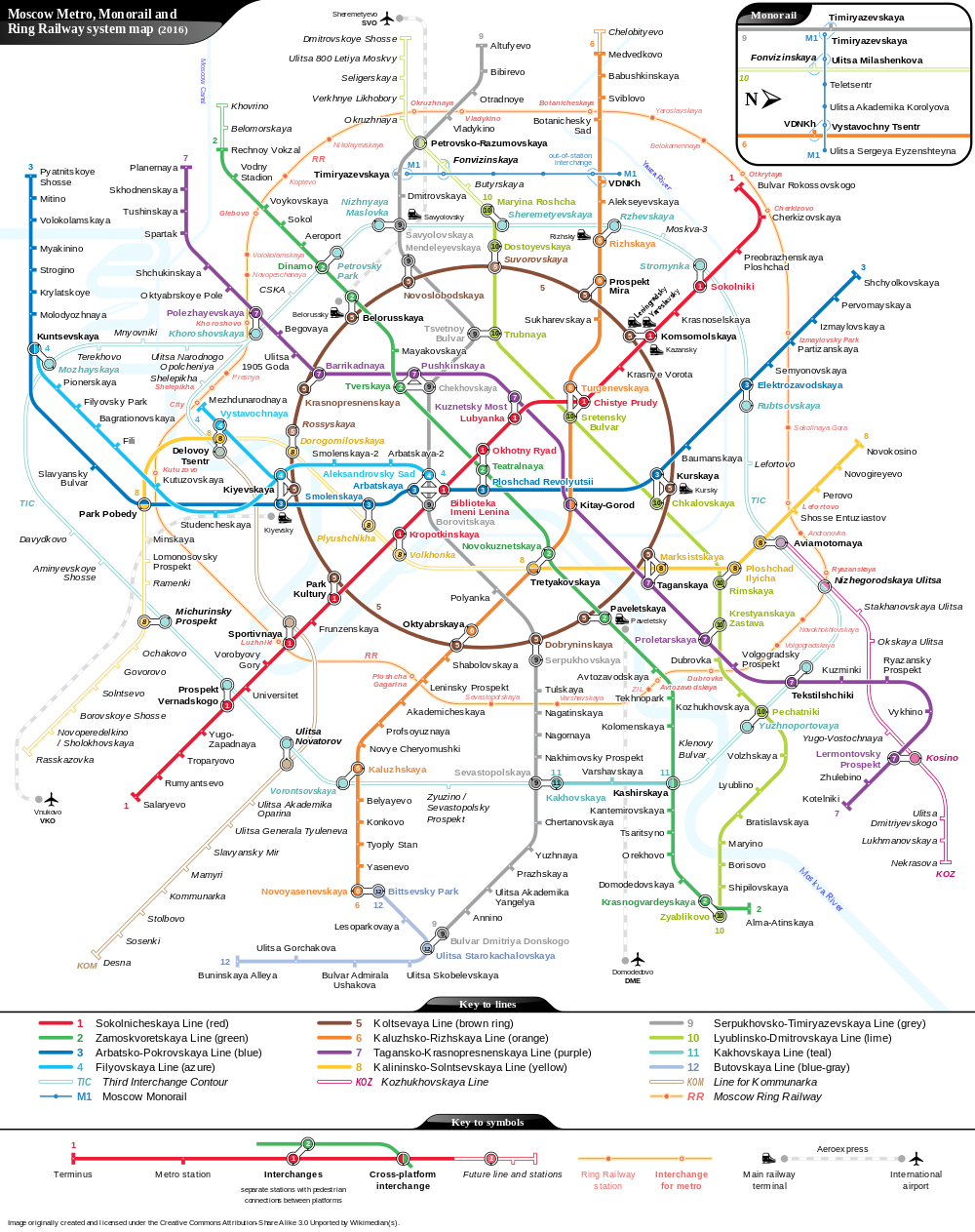 In every place in Moscow you will definitely find some supermarkets in the immediate neighborhood. Usually in addition to basic grocery products, you can also buy there homecare goods, baby products (food and toys), pet products, tobacco and vines. Most of them are big chains and you will meet the same names all around Moscow again and again:
Азбука вкуса (Azbuka Vkusa)
Седьмой континент (Sedmoy Continent)
Перекресток (Perekryostok)
Пятёрочка (Pyatyorochka)
Билла (Billa)
Дикси (Dixi)
Ашан (Auchan)
Ароматный мир (Aromatny mir)
Azbuka Vkusa is a chain of 24 hour supermarkets across the Moscow metro area. The supermarkets offer high class services and quality, including delivery services, organic food, and deluxe products. The prices are far from low gourmets can always find high-quality food and alcohol here. Azbuka also offers cooked food for takeaway, business menu, sushi, freshly baked bread and eco products.
Sedmoy Continent and Perekryostok are mid-price chains with a number of locations across Moscow and other cities. Most (but not all) of their supermarkets are open 24 hours. The quality of their products is normally high, discounts are frequently offered. They have their own bakery and kitchen offering freshly baked French style bread, salads and fish or meat dishes for takeaway.
Pyatyorochka, Billa and Dixi are low-price and the most spread chains of supermarkets in Moscow. Their prices significantly lower, but be ready for the lower service as well. Discounts and cheap products under the supermarket trade name are normal practice in these chains.
Auchan is the huge hypermarket well-known to offer the best balance of quality and prices in Moscow. However, due to the huge sizes Auchans are not so widely spread across the city and can mostly be found within huge shopping malls. The choice of goods is enormous here (you can usually find whatever you might need for your daily life, including cloths, houseware and electrinic equipement).
You might also be interested in visiting Aromatny mir vine supermarkets. The chain includes many locations across Moscow and offers a large selection of moderately priced local and imported wines and spirits.
M.Video is a wide-area multi-store chain of over 45 outlets of different sizes across Moscow. Here you can buy almost any TV, audio and video equipment. M.Video offers a huge assortment of different brands of choice for all tastes. Bonuses and discounts are constantly offered. Some locations are open 24 hours. You can also buy on-line.
El Dorado is another big chain of electronics covering small appliances as well as larger electronic goods such as stereos and televisions. The chain consists of around 30 locations across Moscow and also offers on-line services. Some outlets specialize in the small appliances or mobile phones only whereas their hypermarkets stock a full range of white goods as well.
Media Markt is a German chain of about 15 stores across Moscow also offering on-line services and delivery. The choice is impressive: from small devices (mobile phones, mp3-players, cameras) up to household goods (washing machines, ovens etc.). The chain claims to offer German quality which seems to be the only distinctive marketing feature to pick them out from other electronics stores.
ION is a large chain of electronics outlets selling mainly small appliances – computers, printers, mobile phones, cameras, mp3 players and so on. But ION is not the place to go for televisions, stereos, etc. Keyboard stickers with Russian letters are a useful item you can pick up here :-)
Pleer.ru does not have ordinary shops where a customer can have a look at various displayed wares, choose and buy. It's a web shop that specializes in on-line selling. You can either get your order delivered or collect it in their office not far from the city center. You can also make an order in the office directly before getting it. Pleer.ru offers a huge choice of any possible electronic equipment, prices are often significantly cheaper. It's probably the best balance of price and quality in Moscow.
Gorbushka is a giant complex of shops selling electronics. Anything electrical can be bought here from tiny gadgets right up to fridges. The are both the major renowned stores and tiny no-name stalls specializing in just a few appliances. Prices here can be cheaper that elsewhere in Moscow, but be ready for lower service in some Gorbushka shops.
Savelovsky market is smaller than Gorbushka but it has almost all the same goods and is a fair bit closer to the city center. The market is mainly made up of no-name stalls selling electronics at extremely cheap prices though so it's well worth checking out. Bigger and more reliable brands are also present.
Books in English can be found in small numbers at bookshops throughout Moscow. Some largest selections are listed below. Prices vary widely. Editions by Local publishers generally cost less, imported ones are significantly more expensive, so it's worth shopping around.
Biblio Globus has a large collection of English-language novels which, although piled haphazardly, retain a rough alphabetical order. Decent selection of classics.
Bookhunter is a medium sized collection with good coverage of all areas; particularly good for its sections dedicated to Russian history and Russian literature in translation.
Britannia has a decent collection of novels, histories and other English-language books, but is most valuable for language teaching materials, of which it has an extremely extensive and well-organized collection. The shop offers discounts for teachers.
Dom Innostranoy Knighi is the most central bookshop dedicated to English literature that has a wide range of all kinds of texts.
Dom Knighi is Moscow's most popular bookshop, which has a large English-language selection with a comprehensive range of classic titles.
Molodaya Gvardiya has a small selection of cheap novels and a more extensive English-teaching section with probably the lowest prices in Moscow.
Relod is a small, attractive shop dedicated mainly to Oxford University Press classics and teaching materials, although with a good range of novels at relatively low prices.
You might be able to use your own sim-card in Russia if your provider supports GSM standart and has a "roaming" agreement with one of the local mobile operators. However, the roaming charges are usually high which is why using a local SIM card might be a better solution.
There are three major mobile network providers in Russia: MTS, BeeLine, and Megafon. Their prices, coverage, and the services are quite similar but BeeLine is considered to be the best in terms of reliability and connections quality whereas Megafon's services are often a bit cheaper. MTS's quality and prices are inbetween.
It's is also important to know which standard is supported by you cell phone device. The most Russian mobile companies (including Beeline, MTS and Megafon) use GSM 900/1800 standard. CDMA is used only by several local providers and you won't be able to use a CDMA phone in many cities. So check your phone instruction to find out which standard it is operating in. If you live in the US, it is likely that your mobile does not supports GSM standard and you will need to buy a GSM device. If you live in Europe your telephone should support GSM.
You can buy both a device and sim-card in one of many telecom shops over the city. The most oipular networks are Evroset (Евросеть) and Svyaznoy (Связной). Their offices are often located close to metro stations.
Make sure you have your passport with you when buying a sim-card (it's required for activation of the phone number).
In Moscow you will from time to time find Russian authorities checking for valid papers, especially at the most famous and crowded, e.g. in the city historical center. However, be sure that the policemen are rarely harsh towards English-speaking people and are mostly focused on catching illegal immigrants from former Soviet Union countries. So if you are approached by a police representative, you are not likely to get in troubles. However, to prevent any possible problems we suggest to always remember the rules below.
Russian law requires that you carry some papers with you at all times whenever you go: your passport, a valid visa (if you require a visa to cross the Russian boarder) and your visa registration*. Keeping these papers with you is mandatory and can prevent you from lots of troubles with the local authorities.
We also insist that our teachers always have the BKC emergency phone number saved in their phone books. If you are stopped by a police officer and need help you can always call the emergency number. Our employee will confirm to the police officer that you officially work in BKC-IH and have all the papers required, as well as will offer to bring the required papers to a police office or any other help to ensure you are safe.
Having a phone number of your embassy in Moscow may also be useful.
In any case, having all the papers with you or not, if you have to deal with the local authorities we strictly suggest not to argue with their representatives and behave self-confidently but polite. Spending time in a Russian remand prison cannot be any fun whatsoever.
*All the foreigners coming to Russia must get a registration (aka visa registration or migration registration) within 7 working days after arrival. The paper confirms the address of your temporary residence in Russia. A foreign citizen can be registered at the residence address upon a personal presence of landlord, or at the address if inviting company.
BKC-IH provides full contract teachers with both visa and registration.
You will find many souvenir shops in the city center, e.g. in Arbat street. But the prices are sometimes unreasonably high there. A cheaper place to buy souvenirs in Moscow is Izmaylovsky market. Here you will find an enormous choice of all sorts of souvenirs like hand-painted Matrioshkas of all sizes, flowered shawls and scarves, Russian fur-hats, hand-blown glass figurines, paintings and lots of other folk craft goods. And even though prices are much cheaper here than in the city center, bargaining is normal and even expected.