International Exams
Exams at BKC

BKC IH does not simply teach exams – we are also an Authorised Cambridge ESOL Centre. At BKC it's possible to take all the Cambridge Exams, and of course, IELTS - BKC IELTS Centre has been an Authorised Exam Centre since 2005, running IELTS exams both in Moscow and in Central Russia.
At BKC, we prepare students for all Cambridge exams, IELTS, TOEFL, GMAT and GRE.
Cambridge Exams
We offer a full range of Cambridge ESOL exams including:
Young Learners (Starters, Movers, Flyers)

General English Exam (KET, PET, FCE, CAE, CPE)

Exams for Schools (KET for schools, PET for schools, FCE for Schools)

Business English Certificates (BEC Preliminary, BEC Vantage, BEC Higher)
Cambridge Exam classes are taught in almost all BKC schools, both Central and Satellite, so if you are thinking of taking an exam class, these might be the most obvious choice. Strong ADoS support, availability of excellent resources and the fact that such an Exam class can be part of your block makes teaching exams logistically as hassle-free as a general English class.
IELTS, TOEFL, GRE and GMAT
These exams are taught at IEPC and are always in demand.
Why teach exams?
It makes you think – exam tasks require a good understanding of how language (and the text) works, and this can be fascinating
It's result-oriented and rewarding – you'll be working with highly motivated students, and will soon see results
It's a challenge – how to help students develop the skills and strategies they need to beat the exam? How to make sure all the exam tasks are practiced but the class is still fun and engaging?
There is consistent ADoS support and extensive training: seminars and workshops from our Teacher Training centre
It is possible to become an examiner
Being a Cambridge ESOL or an IELTS examiner is extremely interesting and gives you new insight into teaching exams – what's more, having become an examiner you will be able to continue testing in any country where there is an Authorised Exam Centre.
BKC IH – the choice for life
Me & BKC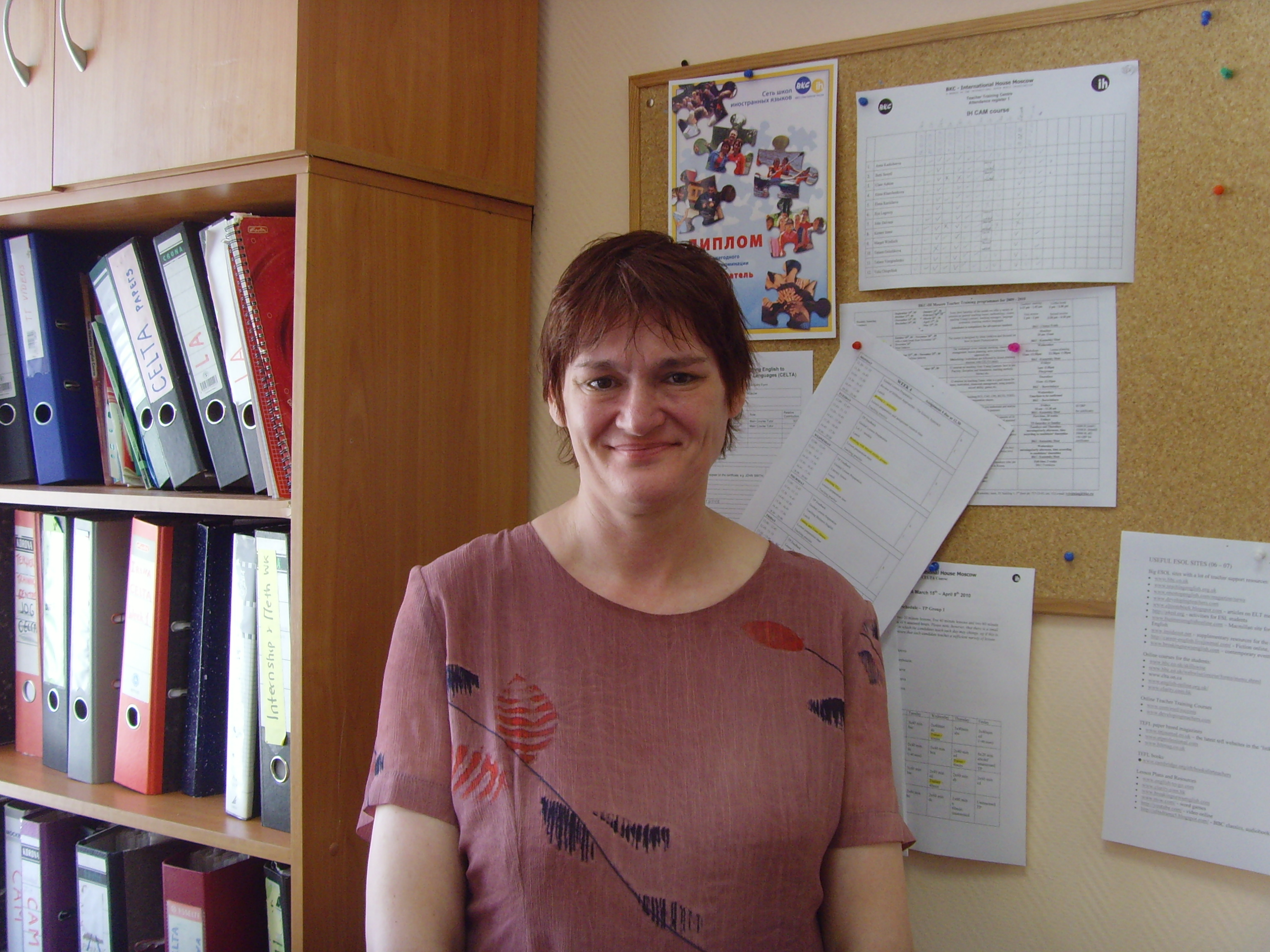 When I first came to BKC, I had already been teaching English for around 20 years. With a degree in Applied Linguistics, a love of travelling and a strong interest in language learning, a career in ELT was inevitable. 5 years after I first walked into a classroom in Cairo with little idea of what to do next, but an ability to think on my feet, I didn't know where I was heading next, but I knew that I loved teaching English, so it was time to do CELTA.
A series of jobs in various small language schools followed. My one experience of working for a large organisation (in South Korea) was not a positive one.
Thus, in 2003, when I applied to BKC-IH (attracted by the location and the name of IH) I was somewhat sceptical of working once again for a large company. The fact that I am still here in 2015 speaks volumes. (especially as I only originally intended to stay for a year!)
So, why am I still here? Well, a love of Moscow helps, of course. BKC, though, is not the only language school here. I would say that it is because the company has all the advantages of a large school without the disadvantages. There is a great variety of different types of class, meaning that there is always a chance to develop different skills, or to choose an area to specialise in. You don't feel like a small cog in a large machine, though. The people running BKC know who you are, and treat you as a human being, not a teaching machine. They talk to you, and they listen to you. They themselves are endearingly human. I have faced a number of personal crises since coming here, and the support and understanding I have received has been terrific.
I have ended up (yes, much in my career has, well, sort of, happened, rather than being planned; I prefer it that way, and I have good reason to know that plans can easily be disrupted by unexpected events) specialising in two main areas: kids (preferably under 10) and exam preparation. The latter involves working a great deal at the MBA Centre, which is a real pleasure for me. I have plenty of respect and affection for my fellow teachers and for the admin staff there.
If all this sounds too good to be true, then I should add that we sometimes have our ups and downs, but then, who doesn't? The important factor is goodwill, and a desire to do the right thing for both our colleagues and our students.
As for the teaching itself, what is the attraction? Russian students are highly motivated, and very goal-oriented, which is very rewarding. This is especially true of exam classes. At the same time, they seem to enjoy their lessons ( and even my sense of humour!), and are usually interested in knowing more about the person teaching them, about their impressions of Russia, and about British culture. Rewarding and fun; who could ask for more?!