Social Life
Moscow in Summer
During the Summer months Moscow becomes a vibrant, colorful city with everyone trying to make the most of the long, sunny days. And what better way to soak up the sun than a day at the beach? Head out to one of these spots around the city:
Akademichiskiye Prudy: Bolshaya Akademicheskaya ul., 38
A rather well-groomed beach with water attractions, ping-pong, billiards, volleyball-courts and much more. Near the Nakau Stadium (From Metro Voikovskaya take bus 179, 191, 114, 282 to station 'Kinoteatr Baikal')
The Beach Club: Leningradskoe sh., 39
A more upmarket spot with evening entertainment, deck chairs, towels and white sand.
Or you might want to take a riverboat-taxi and see Moscow from a different angle. The boats which travel the Moscow River are a great way to see many of the city's most interesting sights, while enjoying a relaxing ride. You can board the boat at the river dock located across the street from the Kievskaya Metro station and travel right through the heart of the city, to the turn-around point, which is near the Novospassky Monastery, and a short walk to the Proletarskaya Metro station. Refreshments are available on board.
There is no shortage of parks, hiking-trails or open-air restaurants to spend your Summer days at. By asking around, hitting the Internet or checking out the English newspapers you'll soon wish the Russian Summer was a little bit longer to fit it all in.
List of other parks: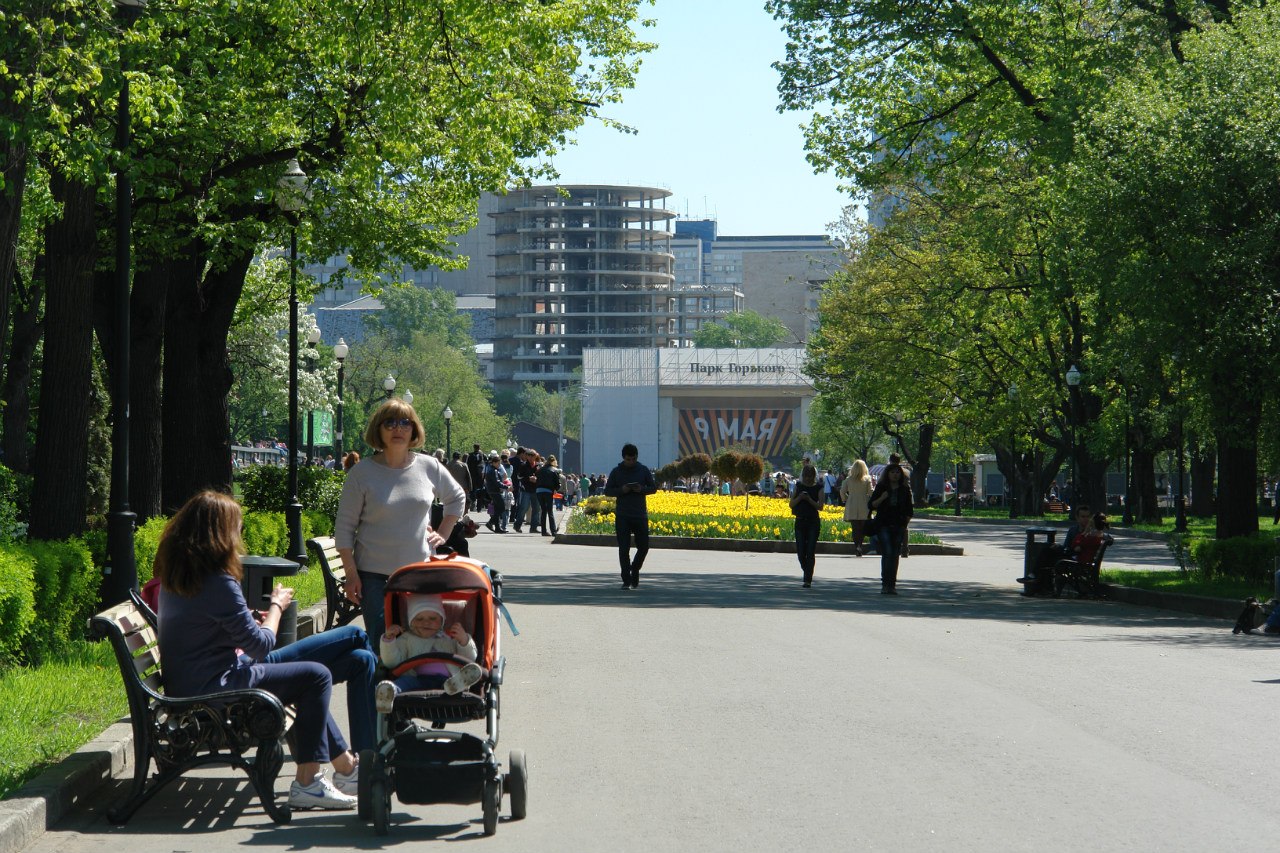 www.park-fili.ru
Add to this the many museums, galleries and cosy cafés, you will find both indoor and outdoor activities to make your stay in Moscow memorable.
Moscow in Winter
Just because the temperature drops doesn't meant the fun stops. Moscow is well-equipped to keep you busy during the long Winter months. From ice-skating on Red Square or in Gorky Park to snuggling in one of the several cinemas that screen English movies, you'll never run out of stuff to do.
Check out the following sites for English movies:
Or bundle up and explore the Winter wonderland that is Kolomenskoe Park. Here you can take a scenic walk along the riverbank, play around on plastic sledges or even go skiing. And afterwards you can warm up in one of the many little restaurants with some mead and traditional Russian food.
Books in English
Bookhunter Bookshop offers the best selection of English language books in Russia.
Biblio-Globus is one of the biggest bookstores in Europe. They have about 40000 titles of books available at their Russian bookstore in Moscow. Now they are working hard to make books from 2000 publishers in Russia available for You via their Internet bookstore. If You are interested in Russian art, Russian history, if You want know more about Russia - You are welcome to their Internet bookstore.
The National Library of Russia
Library for Foreign Literature (founder Rudomino) was founded in 1921 by Margarita Ivanovna Rudomino; in 1990, it was named after its founder. VGBIL is a major international cultural and research centre whose activities are based on a publicly available multilingual collection covering the broad area of the humanities. The Library holds more than 4.5 million items in 140 languages; the accession rate is about 90,000 items a year, of which 40,000 items represent new titles. The Library maintains exchange relations with 1300 organisations in 90 countries world-wide and with more than 350 libraries in Russia and countries of the former Soviet Union. The number of registered users is over 150,000; the personal loan facility is enjoyed by more than 16500 individuals; the library cooperates with more than 150 organisations in Moscow and 1060 organisations outside Moscow. The Library has a staff of 500.
Russian State Library is one of the largest libraries in the world. Collections of the Library are unique in terms of completeness and universality and include documents in 247 languages of the world. At present the total size of the Library's collections exceeds 42 million items. The Russian State Library has specialised collections of maps, musical scores and records, rare books, printed art, dissertations, newspapers, etc.
The Moscow American Centeris a public library based on the American model. The center provides library and reference services and hosts cultural and educational programs.
Radio in English in Moscow
BBC in Moscow
Innovative, progressive and pioneering - the British Broadcasting Corporation has proved a powerful force in the 20th century - providing entertainment, education and information, and captivating millions of viewers and listeners at home and abroad.
Voice of America
Voice of America, a SurfNet Media Group, Inc. network station, is the industry leader in Internet-based talk radio. Broadcasting original content since September 2000, Voice of America has become one of the best talk show radio stations on the Internet. Voice of America broadcasts live twelve hours a day from 6am to 6pm PST.
World Radio Network
WRN is a leading broadcast and transmission company providing its world-wide clients with high quality, innovative and cutting edge solutions for their broadcasting and telecommunications needs.
Radio Free Europe / Radio Liberty
Radio Free Europe/Radio Liberty is a private, international communications service to Eastern and Southeastern Europe, Russia, the Caucasus, Central and Southwestern Asia, funded by the U.S. government. In countries stretching from Belarus to Bosnia and from the Arctic Sea to the Persian Gulf, listeners rely on RFE/RL's daily news, analysis and current affairs programming to provide a coherent, objective account of events in their region and the world.
Press in English in Moscow
The Moscow Times, Independent Press' flagship edition, was launched in March 1992 as a twice-weekly, and relaunched in October 1992 as a daily. The foreign community and Russian business people depend a great deal on the newspaper for up-to-the-minute news on Moscow, Russia and the world. The paper is an objective, reliable source for English-language news on business, politics and culture. It remains an unrivaled advertising medium for reaching local business people and decision-makers.
"A paper lives only as long as it is interesting," say the editors of Moscow News. Claiming to be the "people's newspaper," Moscow News has always prided itself on being more independent than the other Soviet publications. Now, competing with hundreds of no less independent papers, it still runs original and provocative pieces that grab the attention of both media watchers and the general public.
It is a lifestyle magazine, but it also prints topical features on business, real estate and current affairs, that are important for foreigners to read. It aims to be a community bulletin board for the foreign community. In print and on the web.
It is the leading independent online newspaper in Russia, covering both domestic and international current affairs. In Russian and in English.
These are the archives of The Russia Journal. Nearly 20,000 stories from print editions of the newspaper published 1998-2005 are available.
Weekend Guides in Moscow
Moscow Lifestyle is the Moscow Times project dedicated to entertainment news and events in Moscow.
WayToRussia is an information resource about Russia and services directory. They are not a travel agency and do not provide any services by themselves, they provide information about Russia for travelers, businessmen, English-speaking people who live in Russia. They arrange the best deals with the most reliable companies and advertise their services on this site.